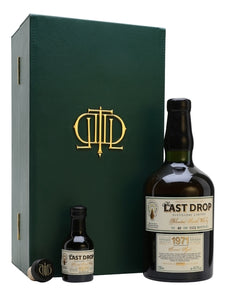 *Include 1 x 750ml and 1x 50ml
Introducing the epitome of timeless elegance and unparalleled craftsmanship – the 1971 Last Drop Vintage Finest Aged Blended Scotch Whisky. This remarkable spirit stands as a tribute to an era gone by, a true testament to the mastery of distillation and maturation that can only come from decades of expertise.

Crafted in the year 1971 and aged to perfection, this exquisite blended Scotch whisky captures the essence of its era, encapsulating the flavors, aromas, and character of a time when attention to detail and patience were revered virtues. Carefully selected rare and aged malt and grain whiskies have been harmoniously blended to create a symphony of flavors that dance across the palate.

Upon the first sip, the 1971 Last Drop Vintage opens with a rich tapestry of delicate honeyed notes, intertwined with hints of dried fruits, warm spices, and a gentle waft of peat smoke. Each sip is a journey through time, revealing layers of complexity that only decades of maturation can bestow. The velvety texture caresses the tongue, releasing a myriad of flavors that evolve and linger, inviting contemplation and appreciation.

Housed in an exquisite decanter, meticulously designed to reflect the sophistication of the era it hails from, the 1971 Last Drop Vintage is a collector's dream and a connoisseur's delight. With each limited edition release, a mere handful of bottles are made available, ensuring that those fortunate enough to acquire one possess not just a whisky, but a piece of history.

Whether enjoyed neat, on the rocks, or in a curated cocktail, the 1971 Last Drop Vintage Finest Aged Blended Scotch Whisky promises an unparalleled sensory experience that transcends time and encapsulates the very essence of luxury. Raise your glass to a momentous era and savor the legacy of craftsmanship with every cherished drop.