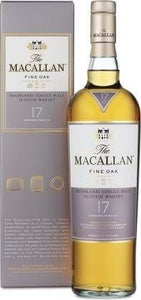 As the sun rises over a dense forest of oak trees, wisps of smoke curl through the air, mingling with the sweet aroma of dewy new beginnings. It's the perfect introduction to the complex and delicious flavors of The Macallan Fine Oak 17 Year Old Single Malt Scotch.
Crafted using a triple cask maturation process, this succulent whisky is aged in European oak ex-Sherry, American oak ex-Sherry, and American oak ex-bourbon casks, resulting in a rich and complex flavor profile. The nose is full of lusciously sweet smoke and slick palm oil, layered over darkly browned butter and hints of vanilla-coated pork cracklings.
On the palate, the taste is bittersweet and alluring, with notes of caramel, melted fudge, and buttery nuts. Each sip is a journey through a forest full of flavor, and the finish is long and satisfying. As a member of the esteemed Macallan family, this 17-year-old single malt Scotch is a true testament to the distillery's commitment to quality and craftsmanship.
Whether enjoyed neat or with a splash of water, The Macallan Fine Oak 17 Year Old Single Malt Scotch is a must-try for any whisky lover. Its unique flavor profile and expert maturation process make it a standout in the world of Scotch.