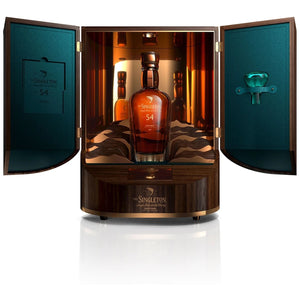 Introducing The Singleton of Dufftown 54 Year Old Single Malt Scotch Whisky, a true masterpiece that embodies the essence of time and craftsmanship. This extraordinary expression is a testament to the distillery's unwavering dedication to producing exceptional whiskies since its founding in 1896. With a rich heritage and unparalleled expertise, The Singleton of Dufftown has become renowned for its distinguished single malts, and this 54-year-old release is a crowning jewel in their collection.
Carefully matured for over five decades in the finest oak casks, this limited edition Scotch whisky showcases the depth, complexity, and sophistication that only time can bestow. Every drop has been nurtured and perfected by the hands of master craftsmen, resulting in a whisky of exceptional character and elegance.
Upon pouring, The Singleton of Dufftown 54 Year Old immediately captivates the senses with its radiant amber hue, hinting at the long years it has spent maturing. The nose reveals a symphony of aromas, starting with luscious notes of ripe fruits, including succulent oranges and juicy plums, beautifully intertwined with layers of rich toffee, dark chocolate, and a subtle whisper of aromatic spices.
On the palate, this distinguished single malt delivers an unrivaled tasting experience. The velvety texture coats the tongue, unveiling a harmonious blend of flavors that dance gracefully on the palate. Rich honey, caramelized almonds, and a touch of vanilla complement the exquisite fruitiness, while delicate hints of oak and a gentle wisp of smoke add depth and complexity to every sip. The finish is luxuriously long, leaving a lingering warmth and a refined sweetness that invites you to savor the moment.
The Singleton of Dufftown 54 Year Old Single Malt Scotch Whisky is presented in an exquisite 750ml bottle, designed to reflect the elegance and sophistication of the liquid within. Each bottle is individually numbered, highlighting its exclusivity and rarity.
Whether enjoyed as a cherished addition to your whisky collection, a special gift for the discerning connoisseur, or a celebration of life's most extraordinary moments, The Singleton of Dufftown 54 Year Old is a whisky that embodies time, tradition, and the artistry of the master blender. Prepare to embark on a truly remarkable whisky journey that transcends the ordinary and immerses you in the extraordinary.