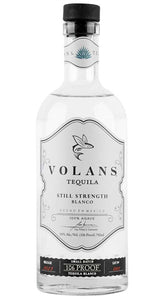 At Folsom Wine & Spirits, we take immense pride in introducing you to the Volans Still Strength Blanco Tequila, a true gem among our premium spirits selection. This tequila embodies the artistry and dedication of a distillery with a rich heritage, delivering an experience that's nothing short of extraordinary.
The Volans Still Strength Blanco Tequila is a testament to the Mexican tradition of crafting the finest tequilas. Handmade in small batches, it all begins with carefully selected blue agave plants, grown under the sun-drenched skies of Jalisco. The heart of this spirit is its purity, having been distilled to perfection, showcasing the essence of the agave plant itself.
When you pour a glass of Volans Still Strength Blanco Tequila, you're greeted with an inviting aroma that hints at the natural sweetness and earthiness of the agave. The initial sip is a revelation of crisp and clean flavors, a harmonious blend of citrus and herbal notes. This tequila is undeniably smooth, making it an exceptional choice for sipping neat or elevating your favorite cocktails.
What sets Volans Still Strength Blanco Tequila apart is its unique "still strength" character. Bottled at a higher proof, it retains the bold, unadulterated essence of the agave, giving you a tequila experience like no other. It's a testament to the dedication and uncompromising quality that the distillery puts into every bottle.
Whether you're a seasoned tequila enthusiast or just beginning your journey into the world of agave spirits, Volans Still Strength Blanco Tequila is a must-try. It's an embodiment of the craftsmanship and passion that goes into creating a truly remarkable tequila, and it's now available at Folsom Wine & Spirits. Elevate your spirits collection with this exceptional blanco tequila and experience the allure of Mexico's finest in every sip.