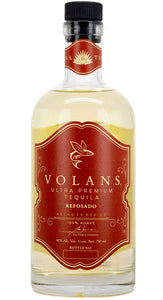 Volan's Tequila Reposado is a premium, handcrafted tequila that is carefully distilled and aged in oak barrels for a minimum of six months. Made from 100% blue agave grown in the highlands of Jalisco, Mexico, this tequila is renowned for its exceptional taste and quality.
With its golden color and complex aroma, Volan's Tequila Reposado is a sophisticated and refined spirit that delivers a unique taste experience. On the palate, it is smooth and well-balanced, with notes of sweet agave, vanilla, and a subtle hint of oak. The finish is long and complex, leaving a warm, lingering aftertaste that is both satisfying and refreshing.
Volan's Tequila Reposado is perfect for sipping on its own, as it showcases the unique flavors and quality of the spirit. It is also an excellent choice for mixing in classic tequila cocktails such as margaritas, Palomas, or tequila sunrises.
Experience the exceptional taste and quality of Volan's Tequila Reposado, and discover the true essence of premium Mexican tequila.