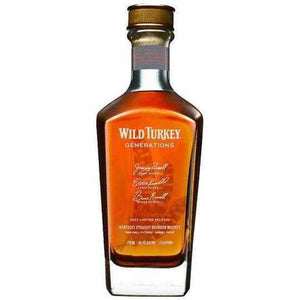 Known for its rich and bold flavors, Wild Turkey has earned a sterling reputation in the world of bourbon. The Generations release likely represents the pinnacle of their craft, carefully curated and aged to perfection.

Expect the bourbon to possess a deep amber hue, indicative of its extended aging process. Its aroma might reveal a symphony of rich caramel, oak, vanilla, and hints of spice, promising a complex and sophisticated tasting experience.

On the palate, the Wild Turkey Generations Bourbon is anticipated to offer a luxurious blend of flavors—decadent caramel, dark fruit, toasted oak, and subtle spices, harmonized to perfection. Its velvety-smooth texture and well-rounded complexity are likely to reflect the expertise and dedication of the master distillers at Wild Turkey.

Given its rarity and high demand among bourbon enthusiasts and collectors, acquiring a bottle of Wild Turkey Generations is a testament to both luck and appreciation for exceptional bourbon craftsmanship.

For those fortunate enough to experience this release, savoring it neat or with a splash of water is recommended to fully appreciate the intricacies and depth of flavors it offers. It's a moment to celebrate the legacy and dedication behind Wild Turkey's extraordinary bourbon-making journey. Cheers to the excellence of Wild Turkey Generations Kentucky Straight Bourbon Whiskey!