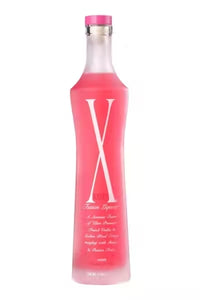 X Rated Fusion Liqueur is a premium French liqueur that offers a unique and seductive blend of tropical fruit flavors and premium vodka. It is made from a blend of luscious blood oranges, mango, and passion fruit, infused with ultra-premium French vodka, resulting in a delicious and exotic liqueur.
The beautiful pink hue and fruity aroma of X Rated Fusion Liqueur are just the beginning of this indulgent treat. On the palate, it offers a complex and balanced blend of sweet and tart flavors, with notes of tangy citrus and tropical fruits, finishing with a smooth and crisp vodka finish.
X Rated Fusion Liqueur is perfect for creating a variety of delicious cocktails, or it can be enjoyed on its own as an after-dinner treat. Try it in a variety of cocktails, such as the X-Rated Margarita, X-Rated Passion Punch, or simply mixed with soda water and ice for a refreshing spritzer.
Overall, X Rated Fusion Liqueur is a premium and indulgent treat that is perfect for those who enjoy fruity and sweet liqueurs. Its complex flavor profile, beautiful color, and smooth finish make it a must-try for those looking for a delicious and unique addition to their liquor cabinet.