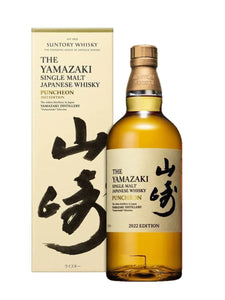 The 2022 Cask Series from Yamazaki is inspired by Tsukuriwake, a philosophy of artisanship through diversity. This series unveils the individual elements that make Yamazaki whisky, Yamazaki, from the casks that it matures in to the malt that it is made from.
The 2022-edition of Yamazaki Puncheon is a complex, spicy Japanese single malt that has been matured in specially-crafted American oak puncheons and bottled as part of the 2022 Yamazaki Cask Series. The palate offers notes of butterscotch, vanilla, oak, ripe fruit and caramel that lingers in the finish.
Yamazaki Puncheon 2022 Edition Japanese Single Malt Whisky | 700ML Tasting Notes
Nose: Ripe persimmon, peach and vanilla.
Palate: Clean, velvety and mild, with caramelised butterscotch notes.
Finish: Sweet vanilla, woodiness, pleasant long finish.