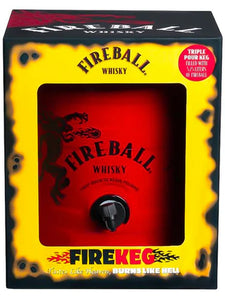 Ignite the Night with Fireball Whisky 5L Keg - The Ultimate Party Companion!

Prepare to embark on a fiery adventure with the Fireball Whisky 5L Keg, a true icon of bold and spicy flavor that's perfect for taking your parties to the next level. Crafted with a unique blend of Canadian whisky and red-hot cinnamon, this keg is the ultimate crowd-pleaser, guaranteed to add a dash of excitement to any gathering.

Product Highlights:

Name: Fireball Whisky 5L Keg

Size: 5 Liters (equivalent to approximately 169 fluid ounces)

Flavor Profile:
Fireball Whisky is renowned for its unforgettable taste experience. Inside the 5L Keg, you'll discover:

1. Cinnamon Spice: Brace yourself for an intense burst of cinnamon that ignites your taste buds and delivers a thrilling, spicy kick.

2. Smooth Whisky Base: Beneath the fiery exterior lies a smooth and mellow Canadian whisky foundation that balances the heat with a touch of sweetness.

3. Versatile Mixing: Whether you prefer it straight, as a shot, or in cocktails, Fireball Whisky adds an extra dimension of flavor and excitement to your drinks.

Perfect for Parties:
The Fireball Whisky 5L Keg is designed for those who know how to have a good time. It's the life of the party, ideal for celebrations, gatherings, tailgates, and more. Just tap, pour, and let the good times roll!

Ease of Use:
The convenient tap on the keg ensures that serving your favorite fiery libations is a breeze. No need to fuss with bottles or mixers – simply pour and enjoy.

Iconic Branding:
The Fireball Whisky 5L Keg is adorned with the iconic Fireball logo, making it a centerpiece that adds a touch of sizzle and flair to any event.

Share the Fire:
This 5L keg is perfect for sharing the Fireball experience with friends, making it a fantastic gift or addition to any party. It's an instant conversation starter and a must-have for those who appreciate a bold and unforgettable drinking experience.

Quality Assurance:
Fireball Whisky is known for its consistent quality and commitment to delivering a one-of-a-kind taste sensation every time you indulge.

Warning: Please enjoy Fireball Whisky responsibly. Its fiery flavor can be addictive, and it's intended for those who appreciate a bold and spicy taste adventure.

Fireball Whisky 5L Keg is your ticket to a memorable night of fiery fun and unforgettable moments. It's more than a drink; it's a party in a keg! So, gather your friends, fire up your enthusiasm, and let the Fireball ignite your night.