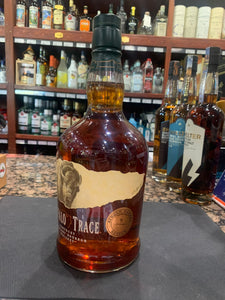 Introducing the Buffalo Trace Kentucky Straight Bourbon Whiskey Single Barrel Pick in a generous 1.75-liter size – a true gem for bourbon enthusiasts and connoisseurs. Crafted with precision and passion, this exceptional spirit embodies the rich heritage and tradition of the American whiskey landscape.

Each bottle of Buffalo Trace Single Barrel Pick is a unique masterpiece, selected by our expert distillers for its exceptional flavor profile. This expression offers a delightful symphony of flavors that dance on your palate with every sip. Expect a harmonious blend of caramel, vanilla, and toffee, interwoven with notes of oak, spice, and a subtle hint of dried fruit. The result is a smooth and well-balanced bourbon with a long, warming finish that leaves you craving another taste.

Handcrafted at the renowned Buffalo Trace Distillery, this Single Barrel Pick represents the pinnacle of bourbon-making excellence. The distillery's time-honored methods and commitment to quality shine through in every drop. Aged for years in new charred oak barrels, the bourbon undergoes a patient maturation process that imparts depth and complexity to the final product.

What makes the Buffalo Trace Single Barrel Pick truly special is its singularity. Each barrel is hand-selected, ensuring that no two bottles are the same. This limited-edition release offers an exclusive opportunity to savor a bourbon that's truly one-of-a-kind. It's the perfect addition to any collector's or connoisseur's treasure trove.

With its generous 1.75-liter size, this bottle is perfect for those special occasions when you want to share the joy of exceptional bourbon with friends and loved ones. It's also a fantastic centerpiece for gatherings and celebrations, making every moment memorable.

Whether you're looking for a gift for a bourbon enthusiast or simply want to treat yourself to something extraordinary, the Buffalo Trace Kentucky Straight Bourbon Whiskey Single Barrel Pick in 1.75 liters is an ideal choice. Its distinctive taste and unique character will leave a lasting impression on those fortunate enough to experience it.

Indulge in the rich history and unmatched quality of Buffalo Trace Kentucky Straight Bourbon Whiskey with this Single Barrel Pick. Elevate your bourbon collection and savor the unparalleled flavors that come from decades of expertise and dedication. Cheers to an extraordinary bourbon experience.