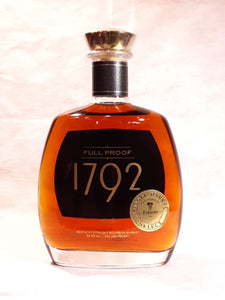 This Hand Selected Single Barrel Full Proof Edition of 1792 whiskey was barreled for the Liquor Bros, and stands out with its unique blend of caramel, vanilla, and sweet dried cherry flavors.
The nose of this Full Proof Single Barrel whiskey is striking, immediately noticeable, and offers a rich aroma of dry oak, caramel, and vanilla, along with a potent alcohol scent that is quickly overshadowed by the more classic bourbon aromas.
On the palate, the whiskey is sweeter than expected, with prominent notes of sweet corn, cinnamon, syrup-soaked raisins, dried cherries, and a hint of vanilla. Despite its high alcohol content, the palate is still pleasant, offering a satisfying mouthfeel that can be appreciated at full proof.
Overall, this 1792 Full Proof Single Barrel whiskey is a one-of-a-kind experience that is sure to delight any bourbon lover.
STORE PICK 2021