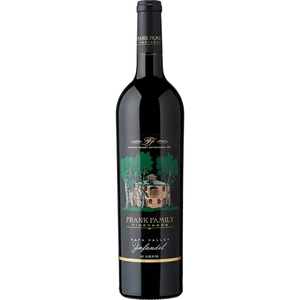 Frank Family Zinfandel is a high-quality red wine produced in the Napa Valley region of California. Made from carefully selected Zinfandel grapes, this wine is known for its rich flavor profile and full-bodied texture.
On the nose, the Frank Family Zinfandel displays aromas of blackberry, raspberry, and cherry, with hints of vanilla and spice. On the palate, the wine is full-bodied and rich, with flavors of blackberry, dark cherry, and chocolate. The tannins are well-integrated and provide a smooth, long-lasting finish.
The Zinfandel grapes used to produce this wine are sourced from some of the best vineyards in the Napa Valley, and the wine is aged in a combination of French and American oak barrels for 12 to 18 months to enhance its flavor and texture.
The Frank Family Zinfandel is an ideal pairing for a wide range of hearty dishes, such as grilled meats, roasted vegetables, and pasta dishes with rich tomato-based sauces. It can also be enjoyed on its own as a sipping wine, or as a complement to a cheese plate or chocolate dessert.
Overall, the Frank Family Zinfandel is an exceptional wine that represents the best of the Napa Valley region. With its rich flavor profile, full-bodied texture, and long-lasting finish, it is sure to impress even the most discerning wine enthusiasts.