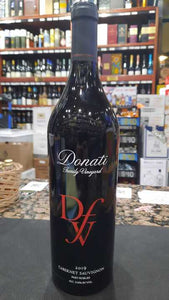 Introducing the remarkable 2019 Donati Family Vineyard Cabernet Sauvignon in a 750ml bottle, a testament to the family's dedication to crafting exceptional wines that reflect both their heritage and the land they call home. This vintage encapsulates the essence of Paso Robles' sun-soaked vineyards and the artistry of winemaking, offering a taste experience that's both bold and refined.

In the glass, the Cabernet Sauvignon displays a deep garnet hue, hinting at the rich flavors that await. The aroma is a captivating blend of blackberries, cassis, and a touch of cedar, offering a sensory journey that's both inviting and intriguing.

With the first sip, you're welcomed into a world of layered complexity. The taste profile showcases the varietal's iconic characteristics, with ripe black fruit notes mingling seamlessly with hints of tobacco and a touch of vanilla. It's a celebration of the grape's natural richness, elevated by careful craftsmanship.

As the wine graces your palate, intricate layers of flavor unfold. Velvety tannins intertwine with the fruit-forward nature of the Cabernet Sauvignon, creating a harmonious and balanced experience that's both luxurious and approachable. It's a testament to the family's commitment to both tradition and innovation.

The finish is a resounding conclusion, leaving behind a lingering impression of the wine's depth and character. 2019 Donati Family Vineyard Cabernet Sauvignon isn't just a vintage – it's a tribute to the family's legacy, a reminder of the importance of connection to the land, and a testament to the dedication that goes into crafting exceptional wines.

Whether enjoyed on its own, paired with hearty dishes, or shared in the company of loved ones, this Cabernet Sauvignon invites you to savor the moment and experience the embodiment of a family's passion in every sip.