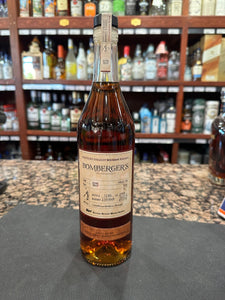 Introducing Bomberger's Declaration Small Batch Kentucky Straight Bourbon Whiskey, a timeless expression that pays homage to the rich heritage of American bourbon craftsmanship. This exceptional whiskey is a testament to the dedication and artistry of the distillers at Bomberger's, who have carefully selected and blended their finest barrels to create a bourbon of exceptional character and depth.
In the bottle, you'll find a liquid treasure, with a warm and inviting amber hue that hints at the complexities within. The nose offers a delightful bouquet of toasted oak, caramel, and sweet vanilla, inviting you to explore further.
With each sip, you'll experience a velvety-smooth palate, where flavors of rich caramel, dried fruits, and warm baking spices meld harmoniously. The Kentucky Straight Bourbon Whiskey brings together the traditional craftsmanship and the unique character of the region's finest grains.
The finish is long-lasting and satisfying, leaving a gentle warmth on the palate, alongside notes of oak and subtle spice. Bomberger's Declaration Small Batch Kentucky Straight Bourbon Whiskey is best enjoyed neat or with a drop of water, allowing the full breadth of its flavors to shine.
This limited release is a declaration of excellence, a celebration of tradition, and an invitation to savor the legacy of American bourbon. From its impeccable taste to the artfully crafted bottle, every element of Bomberger's Declaration embodies the spirit of the bourbon heritage, making it a must-have for connoisseurs and collectors alike.