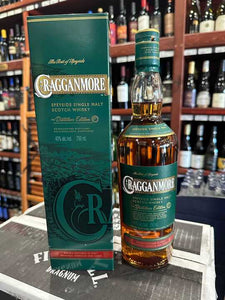 Step into the captivating world of the 2023 Cragganmore Distillers Edition Double Matured Speyside Single Malt Scotch Whisky—a remarkable expression that embodies the essence of Speyside's craftsmanship and elegance. Crafted with precision and finesse, this Distillers Edition presents a whisky that's undergone a unique double maturation process, elevating its character to unparalleled heights.

At the heart of this exceptional whisky lies the marriage of tradition and innovation. Initially matured in traditional oak casks, this expression then undergoes a secondary maturation in specially selected port wine casks. This double maturation imparts an extra layer of depth, complexity, and richness to the whisky, culminating in a truly refined and distinctive flavor profile.

As you pour a dram, expect to be greeted by a radiant amber hue, hinting at the whisky's maturity and the influence of the port casks. The aroma is a delightful interplay of sweet, fruity notes from the port casks, intertwined with Cragganmore's signature floral and honeyed tones—a sensory journey that invites anticipation of an exquisite tasting experience.

Savor each sip as the whisky unfolds its complexities on the palate. The distinct flavors of ripe fruits, rich spices, hints of toffee, and a delicate smokiness dance harmoniously, delivering a velvety smoothness and a lingering finish that leaves a lasting impression.

The 2023 Cragganmore Distillers Edition Double Matured Speyside Single Malt Scotch Whisky represents the pinnacle of Speyside's whisky-making prowess. Its limited release and esteemed reputation make it a prized addition to any collection or a coveted gift for the whisky enthusiast.

At Folsom Wine & Spirits, we invite you to experience the sophistication and allure of the 2023 Cragganmore Distillers Edition. Whether you're an avid whisky connoisseur or someone seeking an extraordinary dram, elevate your whisky journey with this exceptional expression. Embrace the complexity and richness of Cragganmore's craftsmanship and indulge in a truly distinguished whisky experience. Cheers to the magnificence of the 2023 Cragganmore Distillers Edition!