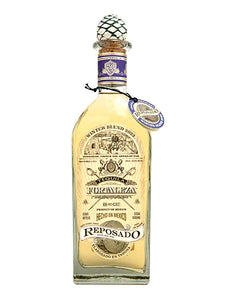 Immerse yourself in the warmth of the 2023 Fortaleza Winter Blend Tequila Reposado, a limited edition expression that captures the essence of the season and the artistry of Fortaleza Tequila. Crafted with precision and care, this Reposado Tequila is a celebration of tradition and exceptional craftsmanship.

As you pour a glass of the Winter Blend Reposado, you'll be greeted by its inviting golden hue, a visual testament to its time spent resting in oak barrels. The aroma is a delightful symphony of caramel, vanilla, and subtle hints of winter spices, creating an enchanting bouquet that sets the stage for a unique tasting experience. On the palate, you'll savor the harmonious blend of cooked agave sweetness, warm oak, and a touch of cinnamon, delivering a rich and nuanced profile. The finish is smooth and lingering, leaving you with a comforting warmth.

The 2023 Fortaleza Winter Blend Tequila Reposado is more than just a tequila; it's a journey into the art of aging and blending. Whether you're a seasoned tequila enthusiast or someone eager to explore the world of premium spirits, this limited edition Reposado is a must-try for those who appreciate craftsmanship, tradition, and the unique character that Fortaleza Tequila brings to each bottle.

Elevate your tequila experience and savor the spirit of the season with the 2023 Fortaleza Winter Blend Tequila Reposado. Order your 750ml bottle today from Folsom Wine & Spirits and immerse yourself in the warmth of this exceptional Reposado Tequila. Cheers to the winter blend and the art of Fortaleza!