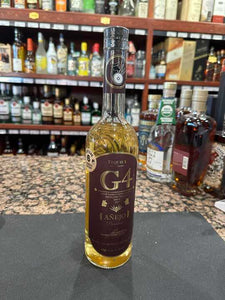 *Special 6 Barrels Edition
Introducing the 2023 G4 Anejo Tequila, a true masterpiece that invites you to savor the soul of Mexico in a bottle. At Folsom Wine & Spirits, we're delighted to offer this exceptional tequila that embodies the rich traditions and artistry of tequila-making. This limited edition release is your passport to an extraordinary journey through the heart of agave spirits.

From the moment you lay eyes on the G4 Anejo Tequila, you know you're in for a special experience. Housed in a beautifully designed bottle, this tequila is a testament to the dedication and craftsmanship of the Camarena family, who have been perfecting the art of tequila production for generations. The bottle exudes Mexican heritage and the promise of a unique tasting experience.

When you open the bottle, the aroma of the G4 Anejo Tequila fills the room, enchanting your senses with a rich bouquet of oak, vanilla, and caramel. This tequila has been aged to perfection in oak barrels, and the nose hints at the depth and complexity that awaits. The first sip is a revelation, as the smooth, full-bodied liquid caresses your palate, offering a symphony of flavors. You'll taste notes of roasted agave, chocolate, and a subtle spice that leaves a delightful, lingering warmth.

The G4 Anejo Tequila leaves a lasting impression with a long, elegant finish, allowing you to savor the craftsmanship that has gone into its production. Each sip transports you to the heart of Mexico, where agave is cherished, and tequila is an art form. This limited edition release is a true connoisseur's choice, and we are proud to offer it exclusively at Folsom Wine & Spirits.

Don't miss your chance to own a piece of Mexico's finest tequila tradition. Secure your bottle of the 2023 G4 Anejo Tequila today and experience the heritage, craftsmanship, and passion that the Camarena family has poured into every drop. Elevate your tequila experience with this exceptional spirit that invites you to embrace the spirit of Mexico. Cheers to a world of unparalleled flavor and tradition!