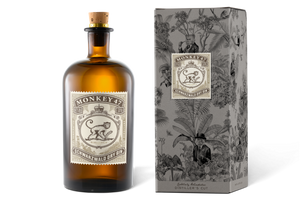 Indulge in the exceptional 2023 Monkey 47 Distiller's Cut Acer saccharum - Maple Syrup 375ml, a limited-edition gin that takes the essence of the Black Forest and infuses it with the rich flavors of pure maple syrup. This one-of-a-kind creation from Monkey 47 is a testament to their relentless pursuit of crafting unique and flavorful gins that push the boundaries of tradition.

The Distiller's Cut Acer saccharum edition is a celebration of innovation and the harmony of ingredients. This 375ml bottle encapsulates the spirit of the Black Forest, where Monkey 47 is distilled, and marries it with the sweet, warm embrace of pure maple syrup. The result is a gin that's both complex and indulgent.

Upon your first sip, you'll be transported to the enchanting Black Forest, as the gin unfolds a tapestry of botanicals, including juniper, coriander, and a delightful hint of maple. The maple syrup adds a touch of sweetness and a subtle earthy note, creating a harmonious balance of flavors that's both intriguing and inviting.

The 2023 Monkey 47 Distiller's Cut Acer saccharum - Maple Syrup is not just a gin; it's a celebration of nature's finest ingredients and the art of distillation. With its limited availability, it's a collector's item and a treasure for those who seek unique and exceptional spirits.

This special edition gin is a statement piece for your home bar, a conversation starter, and a perfect gift for the adventurous spirit in your life. Don't miss the chance to experience the Distiller's Cut Acer saccharum and embark on a flavor journey that bridges the world of gin and the sweet embrace of maple syrup. Secure your bottle today and savor the uniqueness of Monkey 47.