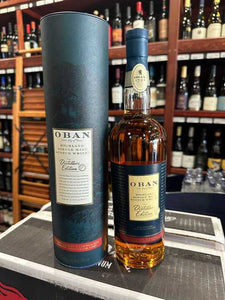 Indulge in the exquisite allure of the 2023 Oban Distiller's Edition Single Malt Scotch Whisky—a true embodiment of craftsmanship and finesse. Elevating the renowned Oban spirit to new heights, this Distiller's Edition presents a meticulously crafted expression that captivates the senses and delights the palate.

This exceptional whisky is the result of Oban's traditional craftsmanship combined with a unique finishing process. Aged initially in oak barrels, it undergoes a secondary maturation in Montilla Fino sherry casks, imparting an extra layer of complexity and sophistication. The result is a harmonious marriage of flavors—a delicate balance of the classic Oban character with the rich influence of the sherry casks.

Upon unveiling the bottle, anticipate a radiant amber hue that hints at the whisky's depth and maturity. The aroma is an invitation to an olfactory journey—a fusion of coastal notes, hints of peat smoke, luscious fruit, and a subtle sweetness from the sherry casks, creating an enticing bouquet that sets the stage for an extraordinary tasting experience.

Savor each sip of this Distiller's Edition as it unveils a symphony of flavors on the palate. Delicate layers of brine, hints of citrus, toffee, and a gentle smokiness intermingle seamlessly, leading to a velvety and lingering finish that leaves an unforgettable impression.

The 2023 Oban Distiller's Edition Single Malt Scotch Whisky stands as a testament to Oban's dedication to quality and innovation. Its limited availability and exceptional reputation make it a prized addition to any whisky collection or a thoughtful gift for the discerning connoisseur.

At Folsom Wine & Spirits, we invite you to experience the unparalleled sophistication and complexity of the Oban Distiller's Edition. Whether you're a whisky enthusiast seeking a unique expression or a collector in pursuit of excellence, indulge in the epitome of Oban's craftsmanship. Embrace this exquisite dram, and elevate your whisky journey to unparalleled heights. Cheers to the allure of the 2023 Oban Distiller's Edition!