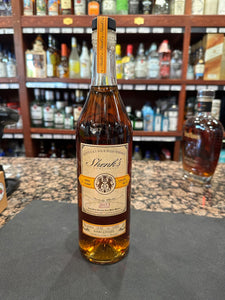 Step into the world of history and tradition with Shenk's Homestead Small Batch Kentucky Sour Mash Whiskey. This extraordinary spirit pays homage to the legacy of John Shenk, one of America's earliest whiskey pioneers, and carries forward his dedication to quality and craftsmanship.
Enclosed within the bottle is a beautifully crafted amber elixir that reflects the spirit of the past and the promise of the future. The nose greets you with inviting aromas of toasted grains, warm caramel, and a subtle touch of oak, transporting you to the heart of the Kentucky countryside.
As you take your first sip, you'll be met with a smooth and balanced palate that captures the essence of a time-honored sour mash recipe. The flavors of sweet corn, spicy rye, and malted barley mingle seamlessly, revealing layers of complexity and depth.
The finish is exceptionally smooth, leaving a satisfying warmth on the palate, accompanied by lingering notes of vanilla and spice. Shenk's Homestead Small Batch Kentucky Sour Mash Whiskey is an invitation to savor history in every sip, appreciating the artistry and dedication of those who came before us.
Whether enjoyed neat, on the rocks, or in classic cocktails, this limited batch whiskey offers a journey through time, an experience that embodies the soul of American whiskey-making tradition. Embrace the heritage of Shenk's Homestead and raise a glass to a taste that echoes the spirit of the past while embracing the promise of tomorrow.