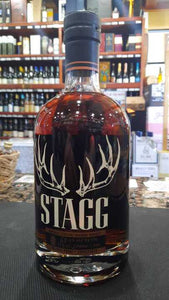 Introducing the 2023 Stagg Jr. Barrel Proof Kentucky Straight Bourbon Whiskey Batch 23A, a masterpiece of American whiskey craftsmanship that embodies the true spirit of the Bluegrass State. This exceptional bourbon is not for the faint of heart; it's a robust, unapologetic expression of what Kentucky bourbon can be.

From the moment you lay eyes on this bottle, you'll sense its remarkable heritage. The Stagg Jr. name is synonymous with excellence, and Batch 23A lives up to that legacy. It pours a rich, deep amber, inviting you into a world of flavor that's been patiently aged and masterfully blended.

One of the hallmarks of Stagg Jr. is its barrel proof nature, and Batch 23A does not disappoint. Bottled straight from the cask at its natural strength, this bourbon delivers an authentic, intense experience. Each sip is a bold journey through the heart of Kentucky's bourbon tradition.

The aroma alone is enough to enthrall your senses. It's a tantalizing mix of caramel, vanilla, and oak, with just a hint of spice in the background. As you take that first sip, your palate is greeted by a symphony of flavors. Rich toffee and dark chocolate meld with notes of dried fruit and leather, creating a complex and unforgettable profile.

The finish is where Batch 23A truly shines. It's long and warm, with a delightful embrace of oak and a subtle kick of spice that lingers. This is a bourbon that demands your attention, one that deserves a place of honor in your collection.

Whether you're a seasoned bourbon aficionado or someone looking to explore the finest Kentucky has to offer, the 2023 Stagg Jr. Barrel Proof Kentucky Straight Bourbon Whiskey Batch 23A is an absolute must-try. It's a bourbon that not only exemplifies tradition but also pushes the boundaries of what bourbon can achieve.

At Folsom Wine & Spirits, we take pride in offering you a curated selection of the finest spirits, and Batch 23A is no exception. Elevate your collection and your bourbon experience with this exceptional release. Order your bottle today and experience the true essence of Kentucky in every sip.