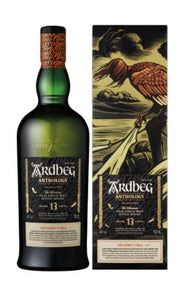 Dive into a captivating tale of Scotch whisky mastery with Ardbeg Anthology: The Harpy's Tale 13 Year Old Single Malt Scotch Whisky. This exceptional expression is a tribute to the distillery's rich history and the mythical harpies that have long roamed the rugged shores of Islay, shaping the lore of this renowned distillery. Ardbeg is a name synonymous with peaty perfection, and The Harpy's Tale is no exception, offering a unique journey through the world of smoky single malts.

With its rich, deep amber hue, The Harpy's Tale allures from the moment you set eyes on it. The aroma is a mesmerizing medley of Ardbeg's signature peat smoke, intertwined with notes of vanilla, citrus, and a hint of brine. It's an olfactory journey that transports you to the windswept coastline, where the sea air dances with the earthy scents of Islay's peat bogs.

The palate is an exploration of complexity, with the smoky character of Ardbeg taking center stage. Layers of rich peat smoke are gracefully complemented by vibrant citrus and sweet vanilla, creating a harmonious balance. As you savor this exquisite whisky, you'll uncover hints of tropical fruits and delicate spices that add depth and intrigue to every sip.

The finish is an enduring revelation of smoky warmth that lingers on your palate, inviting you to savor each moment. Ardbeg Anthology: The Harpy's Tale is a whisky that embodies the distillery's legacy, capturing the untamed beauty of Islay's landscapes in a bottle. This is a limited-edition release, a chance for enthusiasts and collectors to own a piece of Ardbeg history and to relish a whisky that captures the spirit of tradition, myth, and innovation.

At Folsom Wine & Spirits, we are committed to offering you exceptional spirits like The Harpy's Tale. Our dedication to quality ensures that you receive only the finest selections, curated to satisfy even the most discerning palates. Secure your bottle today and embark on an extraordinary journey through Islay's peat and history, one sip at a time.