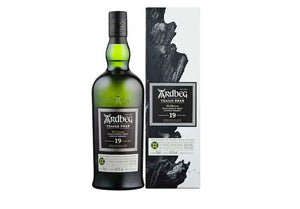 Ardbeg's Traigh Bhan 19-year-old whisky is a highly anticipated release from the Islay distillery, as it marks their first permanent age-statement expression since the introduction of their iconic 10-year-old in 2000.
This whisky has been aged in a combination of American oak and Oloroso sherry casks, giving it a complex and nuanced flavor profile that is bottled at 46.2% ABV. Named after the Traigh Bhan beach, also known as the Singing Sands, this limited batch annual release captures the essence of Islay's rugged coastline.
Released in 2019, this 19-year-old expression is a testament to Ardbeg's dedication to crafting exceptional whiskies and is highly regarded among enthusiasts. With its bold character and smooth finish, Traigh Bhan is a must-try for any whisky lover.