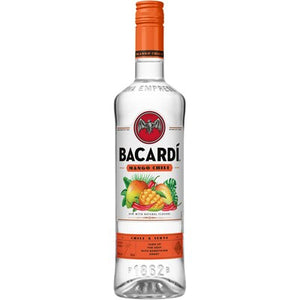 Introducing the Bacardi Mango Chile Rum – a tantalizing fusion of tropical vibrancy and a fiery kick that's ready to ignite your taste buds. Bacardi, a name synonymous with premium spirits, has once again pushed the boundaries of flavor innovation with this exhilarating creation. Whether you're seeking a unique twist on classic cocktails or a thrilling adventure in mixology, this bottle of Bacardi Mango Chile Rum is your passport to an unforgettable journey.

From the very first glance, this rum captivates with its radiant, sun-kissed golden hue. A testament to Bacardi's commitment to quality, it sets the stage for what's to come. As you raise the glass to your nose, you'll be transported to a tropical paradise. The aroma is an enticing bouquet of ripe, succulent mangoes, offering a delightful preview of the adventure that awaits your palate.

But it's not just the sweet and luscious mango that defines this rum – it's the daring infusion of chile peppers that truly sets it apart. With each sip, you'll experience a tantalizing dance between the fruity sweetness of mango and the subtle, warming heat of chile. It's a flavor combination that's both bold and balanced, making it perfect for those who crave excitement in their drinks.

Whether you're sipping it over ice, shaking up a zesty cocktail, or simply mixing it with your favorite soda, Bacardi Mango Chile Rum promises a sensational drinking experience. Imagine the thrill of a Mango Chile Daiquiri, where the sweetness of mango mingles with the fiery embrace of chile, or a Mango Chile Mojito that adds a spicy twist to a classic favorite.

At Folsom Wine & Spirits, we're thrilled to offer this exceptional Bacardi creation to our discerning customers. Get ready to embark on a flavor journey like no other and elevate your mixology game with Bacardi Mango Chile Rum. Order your bottle today, and let the tropical and spicy infusion take your taste buds on a ride they won't soon forget. Cheers to bold innovation and unforgettable moments!