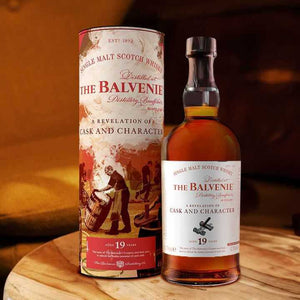 Experience the extraordinary with Balvenie A Revelation of Cask and Character, a 19-Year-Old Single Malt Scotch Whisky that transcends the ordinary and redefines the art of whisky making. This limited edition masterpiece is a testament to the dedication and craftsmanship of The Balvenie Distillery, where tradition meets innovation.

In every sip of this remarkable 19-Year-Old, you'll embark on a journey through time and flavor. The whisky has spent its formative years in traditional oak casks, slowly maturing to develop the exquisite flavors that define The Balvenie. But what truly sets this expression apart is the final stage of its maturation, a rare finish in South American Oak, a first for The Balvenie.

The result is a revelation of cask and character. Rich and indulgent, this single malt boasts a complex flavor profile that marries the classic honeyed sweetness of The Balvenie with the unique, spicier notes drawn from the South American Oak. Hints of toffee, dried fruits, and warm spices interplay with a gentle oakiness, creating a harmonious and indulgent whisky that lingers on the palate.

Balvenie A Revelation of Cask and Character is presented in an exquisite 750ml bottle, a fitting vessel for this exceptional whisky. It's the perfect addition to any collector's shelf, a gem that deserves to be showcased and savored on special occasions. Whether you're a whisky connoisseur or an adventurous explorer of flavors, this limited edition expression is a must-have. Don't miss your chance to own a bottle of this unique masterpiece, brought to you exclusively by Folsom Wine & Spirits.

At Folsom Wine & Spirits, we're committed to bringing you the finest and most exclusive spirits. We take pride in offering you rare and exceptional treasures like Balvenie A Revelation of Cask and Character, ensuring that your experience is nothing short of extraordinary. Secure your bottle today, and embark on a whisky journey that will leave an enduring impression, one sip at a time.