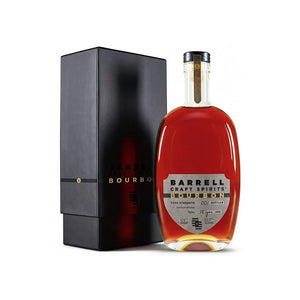 Barrell's Gray Label limited edition collection offers a complex 15-year-old bourbon that represents the non-vintage iteration of this remarkable whiskey. For information on the specific batches of this cask-strength bourbon, please refer to the vintage menu.
Crafted by independent bottler Barrell Craft Spirits, this limited edition spirit is sourced from a blend of 15-year-old straight bourbon whiskeys distilled and aged in Tennessee, Kentucky, and Indiana. The result is a formidable and fierce cask-strength bourbon whiskey that showcases the exceptional quality of each individual whiskey in the blend.
As part of the Gray Label limited edition collection, this bourbon whiskey is a testament to the exceptional skill and expertise of the master distillers who crafted it. With its complex flavor profile and exceptional smoothness, this whiskey is sure to delight even the most discerning whiskey connoisseurs.
Whether enjoyed neat or used as the base for a classic cocktail, this limited edition bourbon whiskey is a must-try for any true whiskey enthusiast. With its unique blend of straight bourbon whiskeys from multiple states, this spirit is a true representation of the rich history and tradition of American whiskey making.