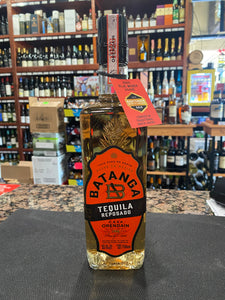 Batganga Reposado Tequila is a premium Mexican tequila that has been aged in oak barrels for a minimum of six months, giving it a smooth and mellow flavor. This Reposado tequila is made using 100% blue Weber agave, harvested in the highlands of Jalisco, Mexico, and carefully crafted to ensure the highest quality.
The aroma of Batganga Reposado Tequila is characterized by a delicate blend of vanilla, caramel, and toasted oak notes, with a hint of agave sweetness. On the palate, it offers a rich and complex flavor profile with a perfect balance of agave and oak, accompanied by a subtle spiciness and a touch of smokiness.
Batganga Reposado Tequila is best enjoyed neat or on the rocks, and it is also a great addition to cocktails such as Margaritas and Palomas. It comes in an elegantly designed bottle, showcasing its amber color and highlighting the brand's commitment to quality and craftsmanship.
Overall, Batganga Reposado Tequila is an excellent choice for tequila lovers looking for a premium, smooth, and complex sipping experience.