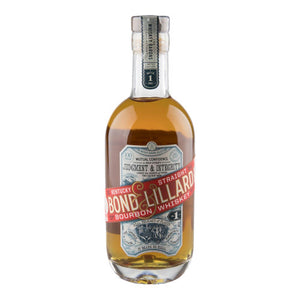 Indulge in the legacy of bourbon craftsmanship with Bond & Lillard Kentucky Straight Bourbon Whiskey. Carefully distilled and aged to perfection, this 375ml bottle offers a taste of history and tradition in a compact package.

With a deep amber hue, Bond & Lillard tantalizes the eye and invites you to explore its complex aroma. Notes of vanilla, caramel, and toasted oak greet your senses, hinting at the layered flavors that await. On the palate, experience a harmonious dance of sweet corn, dark fruit, and a gentle spice that lingers just enough to captivate your taste buds.

Crafted with meticulous attention to detail, Bond & Lillard carries the essence of the finest Kentucky bourbon heritage. Sip it neat to appreciate its full character or use it as the cornerstone of your favorite cocktails. Whether enjoyed alone or shared with friends, this 375ml expression brings the legacy of Bond & Lillard straight to your glass, offering a taste of the past that remains timeless.