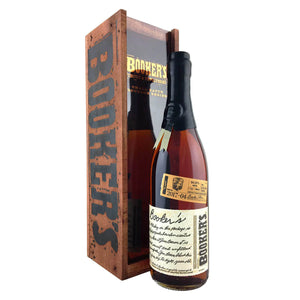 Booker's Bourbon Batch 2017-04 Sip Awhile Kentucky Straight Bourbon Whiskey is a limited edition release from the Booker's Bourbon brand, which is owned by Jim Beam.
This particular batch was named "Sip Awhile" in honor of Booker Noe, the creator of the Booker's Bourbon brand, who was known for his love of sitting on his front porch and enjoying a glass of whiskey. It is a small batch bourbon, meaning that it is made by blending together a limited number of barrels, all of which were aged for a minimum of six years.
The bourbon is bottled at cask strength, which varies from batch to batch, and Batch 2017-04 is bottled at a robust 64.4% ABV. It is made from a mash bill of corn, rye, and malted barley and is aged in charred oak barrels, which impart flavors of vanilla, caramel, and oak.
The flavor profile of Booker's Bourbon Batch 2017-04 Sip Awhile is rich and complex, with notes of honey, toasted nuts, and dark fruit, as well as a hint of spice. It has a long, smooth finish with a warm and satisfying aftertaste. This bourbon is highly sought-after by whiskey enthusiasts, as it is a testament to Booker Noe's legacy and dedication to producing high-quality, small batch bourbons.