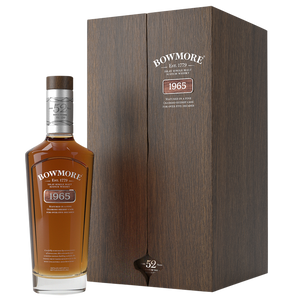 ONE OF THE THE WORLD'S RAREST SINGLE MALTS
Matured for 52 years, this is the third edition from the Bowmore 50-Year-Old Vaults Series.  The liquid in this remarkably rare limited-edition bottling was some of the first to pass through Bowmore's then-new steam heated stills in 1965. The extended maturation period has created a rare and refined whisky with the perfect blend of complexity and elegance, exemplifying Bowmore's history spent perfecting the art of whisky maturation. This expression is a rich reward for those who value the importance of savouring time.
TASTING NOTES
On The Eye: Dark amber.
Breathe In: Fragrant fruits, sweet beeswax and intense dark chocolate.
Sip: Burnt heather and fresh spring flower.
Savour: A touch of jasmine, dried fruit and apricots. Best savoured neat.