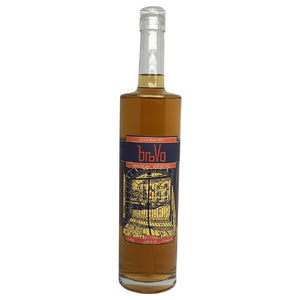 Experience the vibrant spirit of the Pacific Northwest with BroVo Project American Aperitivo, a truly unique and innovative addition to your home bar. This aperitivo is more than just a spirit; it's a testament to the creativity, craftsmanship, and passion of its creators. The BroVo Project is all about pushing the boundaries of flavor and reinventing the art of cocktail culture, and their American Aperitivo is no exception.

What sets the BroVo Project American Aperitivo apart is its commitment to sourcing local ingredients and infusing them with a touch of international flair. With a recipe that's a fusion of botanicals, spices, and fruits, this aperitivo captures the essence of the Pacific Northwest, bringing you a taste experience that's truly one-of-a-kind.

As you pour a glass of BroVo Project American Aperitivo, you'll be greeted by a stunning deep ruby hue, reminiscent of the region's lush landscapes. The aroma is a delightful blend of fruit, herbs, and spices, promising a tasting experience that's as captivating as it is complex.

On the palate, this aperitivo unveils a beautifully balanced profile. The taste is lively and sophisticated, with notes of bitter orange, wild berries, and a medley of botanicals. Hints of herbs and a touch of sweetness add depth and intrigue to every sip. It's an aperitivo that encourages you to savor each nuance, appreciating the craftsmanship and care that go into every bottle.

The finish is gratifyingly long and refreshing, leaving you with the memory of a well-crafted aperitivo that's meant to be savored. BroVo Project American Aperitivo is more than just a spirit; it's a tribute to the art of flavor, a symbol of innovation, and a toast to the endless possibilities in mixology. At Folsom Wine & Spirits, we are delighted to offer this exceptional aperitivo to our esteemed customers who appreciate the creativity and the magic that goes into every bottle. Secure your bottle today and elevate your spirits collection with the innovation of the BroVo Project, one sip at a time.