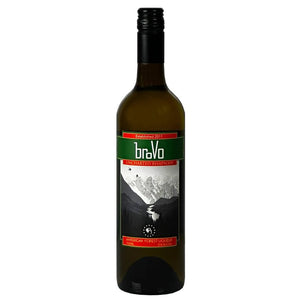 Elevate your cocktail experience with BroVo Uncharted Rhapsody American Forest Liqueur, a spirit that's as enchanting as the forests that inspired it. Crafted with a commitment to innovation and an appreciation for the wonders of nature, this liqueur is a fusion of art and science. It captures the essence of the American forest, bringing the beauty of the outdoors to your glass. Prepare to embark on a journey through the wilderness with each sip, and let your taste buds explore the rich and complex flavors of the natural world.

BroVo Uncharted Rhapsody is a liqueur that celebrates the forests of North America, offering a taste experience that's truly one-of-a-kind. It's the result of meticulous research and experimentation, where the distillers sought out the botanical treasures hidden in the heart of the wilderness. The liqueur combines wild harvested botanicals, spices, and fruits, creating a symphony of flavors that evoke the enchanting spirit of the American forest.

This liqueur is a true testament to the art of distillation. The delicate balance of flavors is achieved through a harmonious blend of botanicals and spirits, resulting in a rich and vibrant liqueur that beautifully captures the essence of the forest. It's a perfect fusion of science and craftsmanship, a unique creation that opens the door to endless possibilities in mixology.

As you pour a glass of BroVo Uncharted Rhapsody, you'll be greeted by a stunning deep amber color, reminiscent of the forest at twilight. The aroma is an enchanting medley of juniper, fir, and pine, mingling with the sweetness of wild berries and spices, promising a tasting experience that's as captivating as it is complex.

On the palate, this liqueur unveils a beautifully balanced profile. The taste is velvety and sophisticated, with notes of forest berries, evergreen, and a hint of earthiness. Hints of spices and a touch of sweetness add depth and intrigue to every sip. It's a liqueur that encourages you to savor each nuance, appreciating the craftsmanship and care that go into every bottle.

The finish is gratifyingly long and warming, leaving you with the memory of a well-crafted liqueur that's meant to be savored. BroVo Uncharted Rhapsody American Forest Liqueur is more than just a spirit; it's a tribute to the beauty of nature, a symbol of innovation, and a toast to the endless wonders of the American forest. At Folsom Wine & Spirits, we are delighted to offer this exceptional liqueur to our esteemed customers who appreciate the artistry and the magic that goes into every bottle. Secure your bottle today and elevate your spirits collection with the enchantment of BroVo Uncharted Rhapsody, one sip at a time.