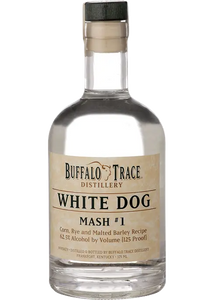 Unlock a taste of history and craftsmanship with Buffalo Trace Distillery White Dog Mash No. 1 Spirit. This unique and unaged spirit is a testament to the art of distillation, offering a glimpse into the origins of some of the world's finest bourbons. It's a bold and exciting way to experience the true essence of American whiskey-making.

White Dog Mash No. 1 is a crystal-clear, unaged distillate that showcases the base of what will eventually become the renowned Buffalo Trace bourbons. Crafted with the same precision and care that the distillery has employed for generations, it captures the raw, unadulterated character of the mash bill. It's the purest expression of Buffalo Trace's commitment to quality and tradition.

Upon your first sip, you'll be greeted by a robust, grain-forward flavor profile. Corn takes the lead, with hints of rye and malted barley adding depth and complexity. This unaged spirit carries a delightful sweetness, reminiscent of freshly harvested grains, and a subtle, warming spiciness that lingers on your palate.

White Dog Mash No. 1 is a favorite among whiskey enthusiasts and mixologists for its versatility. It serves as a perfect canvas for crafting your cocktails, allowing you to experiment with flavors and create your unique whiskey experience.

At Folsom Wine & Spirits, we're proud to offer Buffalo Trace Distillery White Dog Mash No. 1 Spirit, giving you the opportunity to explore the roots of one of America's most iconic distilleries. Whether you're a seasoned whiskey aficionado or a curious explorer of spirits, this unaged gem is a must-have in your collection. Embrace the essence of American whiskey history and order your bottle today to embark on a flavorful journey like no other.