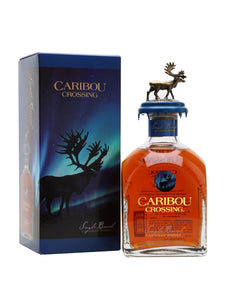 Indulge in the smooth and refined taste of Caribou Crossing Single Barrel Canadian Whiskey. Meticulously crafted with a commitment to quality, this exceptional whiskey embodies the essence of Canadian heritage and tradition.

With its inviting golden hue, Caribou Crossing captivates the eye. Each sip reveals a harmonious blend of flavors, combining the sweetness of maple syrup with subtle notes of caramel and vanilla. The palate is treated to a delightful complexity, as hints of oak and baking spices dance across the taste buds.

This whiskey's signature feature lies in its single barrel production process, ensuring a unique and distinct character with every bottle. Carefully selected barrels undergo meticulous aging, allowing the rich flavors to develop and mature. The result is a truly remarkable and nuanced drinking experience that connoisseurs and whiskey enthusiasts will appreciate.

Caribou Crossing Single Barrel Canadian Whiskey is a testament to the art of whiskey-making. The dedication of master blenders and the use of only the finest ingredients are evident in every sip. Its smooth and velvety finish leaves a lasting impression, inviting you to savor the moment and appreciate the craftsmanship that went into creating this exceptional spirit.

Whether enjoyed neat, on the rocks, or as the foundation for classic cocktails, Caribou Crossing Single Barrel Canadian Whiskey elevates any drinking occasion. Discover the rich flavors, unparalleled craftsmanship, and the true essence of Canadian whiskey with Caribou Crossing.