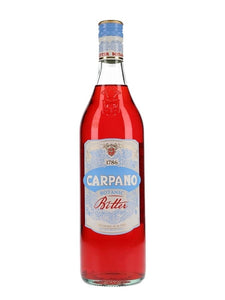 Carpano Botanic Bitter is a premium Italian bitter liqueur that is made using a unique blend of botanicals and spices. This bitter liqueur is carefully crafted by the expert mixologists at Carpano, who have been producing fine Italian spirits since 1786.
Carpano Botanic Bitter has a complex and well-balanced flavor profile, with notes of bitter orange, gentian root, and a variety of aromatic herbs and spices. It is perfect for adding depth and complexity to classic cocktails, such as the Negroni or Americano, and can also be enjoyed on its own as a delicious after-dinner digestif.
This versatile liqueur is made using only the finest natural ingredients, including locally sourced botanicals and spices. It is bottled at 22% ABV, making it a perfect addition to any well-stocked home bar.
Carpano Botanic Bitter is perfect for anyone who loves the taste of traditional Italian bitters and is looking for a high-quality, authentic product. Its premium quality, complex flavor, and versatility make it a standout choice among liqueur enthusiasts and casual drinkers alike. The 750ml bottle is perfect for sharing with friends and family or for stocking up your home bar for all your cocktail needs.