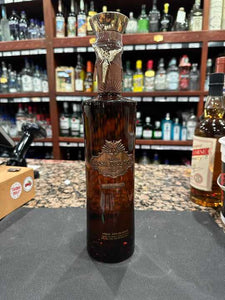 Indulge in the exquisite world of Casa del Sol Angel's Reserve Anejo Tequila, a true masterpiece of Mexican craftsmanship. This tequila is not just a spirit; it's an experience that takes you on a journey through the heart of Mexico, where agave plants are nurtured and tequila-making is elevated to an art form.

Casa del Sol's Angel's Reserve Anejo Tequila is the culmination of years of dedication and patience. It's aged in carefully selected oak barrels for an extended period, allowing it to develop its rich and complex character. The result is a tequila that's smoother and more refined than any other, with flavors that dance on your palate and leave you wanting more.

From the moment you pour a glass of Angel's Reserve Anejo, you'll be captivated by its deep amber hue, a testament to its extended aging process. The aroma is a tantalizing blend of vanilla, caramel, and oak, inviting you to savor the anticipation of what's to come. On the palate, you'll be greeted by a harmonious medley of flavors, with hints of toffee, dried fruits, and a subtle touch of spice. The finish is long and luxurious, leaving a warm, lingering sensation that's as smooth as silk.

This tequila is not just for sipping; it's a celebration in a bottle. It's the perfect choice for special occasions or for simply savoring life's extraordinary moments. Whether you're a tequila aficionado or someone looking to elevate their spirits experience, Casa del Sol Angel's Reserve Anejo Tequila is a must-try.

Indulge in the elegance and sophistication of Mexico's finest anejo tequila, brought to you exclusively by Casa del Sol. Elevate your collection and savor the extraordinary with each sip of Angel's Reserve Anejo. Order your bottle today from Folsom Wine & Spirits and discover the true essence of Mexican tequila craftsmanship. Cheers to Casa del Sol, where every drop is a work of art.