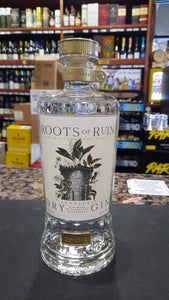 Starting from a base of our rye whiskey newmake, our Roots of Ruin Gin is vapor distilled drawing bright and complex flavors from a series of eight botanicals. 
‍
Mashbill:
17% Yellow Corn / 63% Rye / 20% Malted Barley
Botanicals:
Juniper, Chamomile, Ginger, Rosemary, Licorice Root, Lemon Verbena, Coriander, and Angelica Root
Aroma:
Bright and floral, subtle baking spice, and soft pine 
Taste:
‍Balanced notes of citrus and lemon verbena, followed by spicy ginger and sweet chamomile flower. Delicately complex with a distinct earthy character including angelica, soft juniper, and rosemary. 
Finish:
Smooth, sweet, and creamy with hints of spice. 
Proof:‍
106 Alc/Vol - 53%
‍