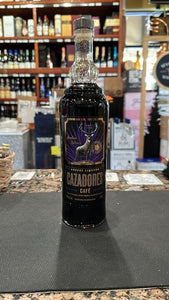 Indulge in the captivating fusion of rich coffee and smooth tequila with Cazadores Cafe Tequila Liqueur, an extraordinary libation that's sure to awaken your senses and elevate your taste buds. This exceptional liqueur, carefully crafted by the renowned Cazadores distillery, embodies the perfect blend of premium tequila and the aromatic essence of freshly roasted coffee beans. Whether you're a seasoned connoisseur or just beginning your journey into the world of spirits, Cazadores Cafe Tequila Liqueur promises a memorable experience that's both sophisticated and approachable.

With each sip, you'll be treated to a symphony of flavors that dance on your palate. The initial notes are a harmonious melody of robust coffee, enticing your senses with its earthy aroma and bold, roasted character. As the velvety tequila embraces your taste buds, you'll discover a sublime fusion of creamy sweetness and a subtle hint of vanilla, creating a well-balanced and indulgent profile. This liqueur offers a warm, inviting finish that lingers, leaving you with a delightful aftertaste that's both comforting and complex.

Cazadores Cafe Tequila Liqueur is not just a drink; it's an experience to savor and share. It's the perfect companion for cozy evenings by the fire, a delightful addition to your favorite cocktails, or a unique gift for someone who appreciates the finer things in life. Whether you prefer it neat, on the rocks, or as an ingredient in cocktails like Espresso Martinis or Mexican Coffee, this liqueur showcases the exceptional quality and craftsmanship that Cazadores is renowned for.

At Folsom Wine & Spirits, we take pride in offering you the finest selection of premium spirits, and Cazadores Cafe Tequila Liqueur is no exception. Add a touch of sophistication and a dash of indulgence to your collection today by bringing home this exquisite liqueur. Experience the perfect marriage of coffee and tequila in every bottle, and let your taste buds embark on a journey of pure pleasure. Cheers to memorable moments and unforgettable flavors with Cazadores Cafe Tequila Liqueur.