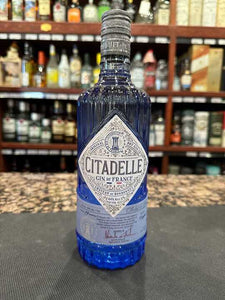 Introducing Citadelle Gin - A Journey of Exquisite Botanicals and Unparalleled Craftsmanship

Elevate your gin experience to new heights with Citadelle Gin, an extraordinary spirit meticulously crafted to delight your senses. Hailing from the historic Cognac region of France, Citadelle Gin is a true testament to the centuries-old tradition of distilling perfection.

Expertly Curated Botanicals: Citadelle Gin is a harmonious fusion of 19 hand-selected botanicals sourced from around the world. From the vibrant citrus notes of juniper, lemon, and orange to the soothing warmth of cardamom, coriander, and anise, each ingredient is carefully balanced to create a complex and captivating flavor profile.

Craftsmanship and Heritage: Crafted within the walls of an ancient fortress dating back to the 12th century, Citadelle Gin embraces the rich history of its surroundings. Our master distillers blend modern innovation with time-honored techniques to produce a gin that stands the test of time.

Small-Batch Distillation: Citadelle Gin is distilled in small batches using traditional copper pot stills. This artisanal process ensures exceptional quality and attention to detail, allowing the flavors of the botanicals to shine through, sip after sip.

Smooth and Versatile: With its velvety texture and subtle floral undertones, Citadelle Gin can be enjoyed neat or mixed in a variety of classic and contemporary cocktails. From a classic Martini to an adventurous Negroni, Citadelle Gin adds a touch of elegance to any libation.

Timeless Elegance: The striking bottle design embodies the essence of Citadelle Gin - timeless elegance with a modern twist. Its clear glass showcases the crystal-clear liquid within, and the iconic label depicts the historic citadel, a testament to our dedication to tradition and craftsmanship.

Whether you're an experienced gin connoisseur or a curious newcomer, Citadelle Gin promises to take you on a journey of unparalleled taste and sophistication. Experience the art of gin-making at its finest with Citadelle Gin - a masterpiece born from history, passion, and a commitment to excellence. Cheers to a world of refined flavors!