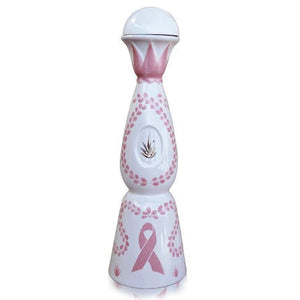 **NO BOX
Clase Azul Edición Especial Rosa, often referred to as Clase Azul Pink Tequila, is a unique and limited-edition tequila offering from the renowned Clase Azul distillery. This tequila is celebrated not only for its exceptional taste but also for its striking presentation.

Clase Azul Pink Tequila welcomes you with a captivating aroma characterized by the sweet and inviting scent of ripe strawberries, complemented by subtle floral notes. This delightful bouquet sets the stage for a sensory journey.

On the palate, this tequila delivers a harmonious blend of flavors. You can expect the succulent sweetness of strawberries to take center stage, with hints of tropical fruit and a touch of vanilla adding complexity. The result is a well-balanced and delightful taste profile.

What truly sets Clase Azul Pink Tequila apart is its presentation. It comes in a hand-painted ceramic bottle adorned with intricate artwork, making it not only a spirit but also a work of art that's often sought after by collectors and enthusiasts.

Crafted with precision and care, this limited-edition tequila reflects Clase Azul's commitment to quality and innovation. It combines traditional tequila-making techniques with creative flavor profiles to create a unique and memorable spirit.

Clase Azul Pink Tequila can be enjoyed neat to savor its intricate flavors or used as the foundation for creative cocktails that showcase its fruity sweetness.

Clase Azul Edición Especial Rosa - Pink Tequila is a testament to the art of tequila-making and the creativity of Clase Azul. Whether you're celebrating a special occasion or seeking a tequila that stands out, this limited-edition expression promises a memorable and artistic tequila experience. Raise your glass and savor the unique flavors and presentation of Clase Azul Pink Tequila.