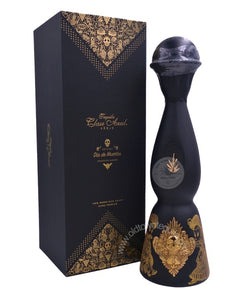 Clase Azul Tequila Día de Muertos Limited Edition Sabores is a tribute to this festivity's gastronomy and the remembrance of the most beautiful moments we've lived with our loved ones through the food we share.
This Limited Edition is the first of five installments of our Día de Muertos series that will be unveiled in the following years.
El Día de Muertos is the most anticipated Mexican holiday of the year, as it symbolizes one of the most beautiful traditions we have inherited—celebrating our loved ones who have embarked on an exciting journey: life after death.
Among the various ways to commemorate this holiday, a cultural element unifies all regions in Mexico: the food included in offerings.
This extraordinary tequila was created by blending an añejo tequila aged for more than 14 months in casks previously used for American whiskey with tequilas aged in first-use American oak casks having light and medium charring
Attention: box may suffer bends during transit we  try are best to prevent this but making you aware that it is highly likely due to the display box being very Flimsy And can not offer returns or replacements.