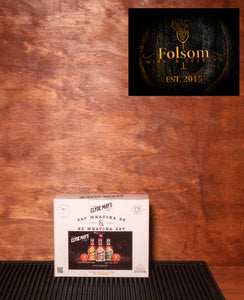 3 50ML TASTERS
Introducing Clyde Mayes 50ml - A Taste of Southern Tradition

Experience the rich heritage and exceptional craftsmanship of Clyde Mayes in a compact and convenient 50ml bottle. Clyde Mayes, known for creating exceptional small-batch whiskey, brings you a taste of Southern tradition that's perfect for savoring on any occasion.

Crafted with the utmost care, Clyde Mayes 50ml showcases the mastery of distillation that has been the hallmark of the Clyde Mayes brand for generations. Every drop is a testament to the dedication and skill of our master distillers.

Clyde Mayes 50ml embodies the unique Alabama style that sets it apart from the rest. With its smooth and mellow character, this whiskey is a true reflection of the Southern way of life.

Upon first sip, you'll be greeted by the warm embrace of caramel and vanilla, followed by subtle hints of apple and a touch of cinnamon. The finish is long and satisfying, leaving a gentle warmth that lingers on the palate.

Whether you prefer it neat, on the rocks, or as a key ingredient in your favorite cocktail, Clyde Mayes 50ml offers versatility that suits any whiskey enthusiast. Its 50ml size makes it perfect for a solo sip or for sharing with friends.

Clyde Mayes 50ml is the ideal gift for whiskey connoisseurs and those who appreciate a taste of Southern tradition. Whether it's a special occasion or a token of appreciation, this miniature bottle is sure to impress.

For over a century, Clyde Mayes has stood for quality, tradition, and a commitment to creating exceptional whiskey. Clyde Mayes 50ml is a tribute to this legacy, allowing you to experience the essence of the South in every drop.

Elevate your whiskey experience with Clyde Mayes 50ml. Discover the flavors of the South in a bottle that's as authentic as the tradition it represents. Cheers to the timeless taste of Clyde Mayes.