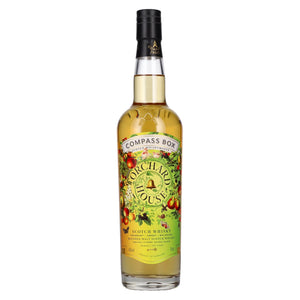 Discover the enchanting world of Scotch whisky with Compass Box 'Orchard House' Blended Malt Scotch Whisky, a masterpiece that pays homage to the Scottish tradition of whisky-making. Crafted by the visionary artisans at Compass Box, 'Orchard House' is a harmonious blend of single malts aged in American oak, resulting in a whisky that embodies the essence of Scotland's fertile orchards and pristine landscapes.

As you pour a dram of 'Orchard House,' the rich, golden hue glistens in the glass, promising a sensory journey like no other. The aroma is an invitation to explore further, offering a captivating bouquet of orchard fruits, honeyed sweetness, and a delicate hint of spice. It's a symphony of scents that beckons you to take your first sip.

Upon tasting, 'Orchard House' reveals its complexity with layers of flavor. The palate is a delightful dance of ripe pears, juicy apples, and a subtle undercurrent of vanilla and cinnamon. This is a whisky that captivates with its balance, offering a harmonious blend of fruitiness and gentle spice that evolves with each sip.

The finish of 'Orchard House' is nothing short of sublime. It lingers, ever so gracefully, with a warm embrace that leaves a lasting impression. As the flavors gradually fade, you're left with a sense of satisfaction, a testament to the artistry and attention to detail that Compass Box pours into each bottle.

Perfectly suited for both newcomers and seasoned whisky enthusiasts, 'Orchard House' is a captivating addition to your collection. Whether you're enjoying it neat, on the rocks, or as the star of your favorite cocktail, this blended malt Scotch whisky embodies the spirit of Scotland's rich whisky heritage. Elevate your whisky experience with Compass Box 'Orchard House,' available now at Folsom Wine & Spirits. Order your bottle today and embark on a journey through the orchards of Scotland with every sip.