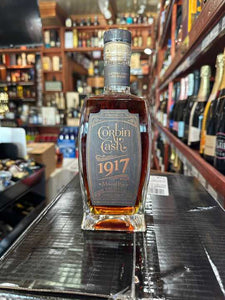 Corbin Cash 1917 Merced Rye Whiskey is a premium spirit that pays homage to the rich traditions of American whiskey-making. Crafted with meticulous care and a commitment to quality, this exceptional whiskey offers a taste experience that captures the essence of a bygone era.

Heritage: Named after the Merced Rye, a timeless grain with a storied history in American whiskey production, this spirit embodies the heritage and craftsmanship of early 20th-century distillation.

Smooth and Complex: Corbin Cash 1917 Merced Rye Whiskey boasts a smooth and refined character with a complexity of flavors that unfold with each sip. Expect a harmonious blend of spice, caramel, and oak notes that dance on the palate.

Small Batch: This whiskey is meticulously crafted in small batches to ensure consistent quality and flavor. The limited production ensures that every bottle receives the attention it deserves.

Distinctive Bottle: Presented in a classic 750ml bottle, Corbin Cash 1917 Merced Rye Whiskey is not only a delight for the taste buds but also a visual treat. Its packaging pays homage to the whiskey's heritage and artisanal roots.

Sip Neat or in Cocktails: Whether you prefer sipping it neat to appreciate its full complexity or using it as the base for classic cocktails, Corbin Cash 1917 Merced Rye Whiskey is a versatile spirit that caters to both connoisseurs and mixologists.

Perfect for Special Occasions: This whiskey makes for an excellent gift or a special addition to your personal collection, adding a touch of history and sophistication to any occasion.

Indulge in the flavors of a bygone era with Corbin Cash 1917 Merced Rye Whiskey, and experience the timeless craftsmanship and tradition of American whiskey-making. Each sip is a journey through history, culture, and the art of distillation.