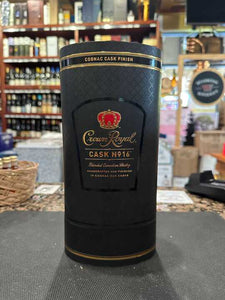 Elevate your whisky experience with Crown Royal Cask No. 16, a true gem in the world of Canadian whisky. This exceptional offering from Crown Royal distillery is a testament to their unwavering commitment to quality and craftsmanship. Cask No. 16 is a limited edition release that embodies the essence of sophistication and luxury, making it a must-have for connoisseurs and collectors alike.

At the heart of this extraordinary whisky lies a blend of meticulously selected, rare, and aged whisky stocks. These handpicked barrels have matured for no less than 16 years, resulting in a spirit that radiates a deep, golden amber hue. This extended aging process imparts a level of complexity and depth that is truly unmatched, setting Cask No. 16 apart as a whisky of rare distinction.

Upon nosing, you'll be greeted by a symphony of aromas that dance delicately from the glass. Notes of dried fruit, toasted oak, and rich caramel intertwine, inviting you into a world of sensory delight. As you take your first sip, the whisky unfolds with a luxurious and velvety texture, coating your palate with flavors of vanilla, toffee, and subtle hints of dark chocolate. These rich, indulgent notes are complemented by a gentle warmth that caresses the senses.

The finish is a harmonious crescendo, long and lingering, leaving behind traces of sweet spices and oak that tantalize the taste buds. Crown Royal Cask No. 16 is a testament to the artistry of blending and aging, a whisky that pays homage to the time-honored traditions of Canadian whisky craftsmanship. Whether you choose to enjoy it neat, on the rocks, or in a meticulously crafted cocktail, this exceptional spirit will leave a lasting impression on your palate.

Folsom Wine and Spirits is proud to offer this limited edition masterpiece to our discerning customers. We understand the importance of sourcing only the finest spirits, and Crown Royal Cask No. 16 is a testament to our commitment to excellence. Indulge in the opulence of this exceptional whisky and elevate your whisky collection to new heights. Make your mark in the world of fine spirits by acquiring your bottle of Crown Royal Cask No. 16 today. Immerse yourself in the world of Canadian whisky perfection and savor every sip of this unparalleled expression from Crown Royal.