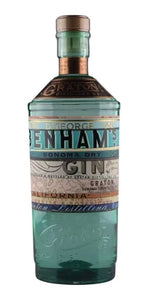 D. George Benham's Sonoma Dry Gin is a premium gin that embodies the essence of California's wine country. Distilled in small batches, this gin is crafted using a unique blend of botanicals that create a complex yet harmonious flavor profile.
At its core, D. George Benham's Sonoma Dry Gin is a juniper-forward gin that showcases notes of fresh herbs, citrus, and spices. It has a smooth and balanced texture, making it a versatile gin that is perfect for mixing in a variety of cocktails.
What sets this gin apart is its attention to detail and the use of locally sourced ingredients. The botanicals are carefully selected and include California-grown citrus, such as Meyer lemons, along with traditional gin botanicals. The result is a gin that is both familiar and unique, with a distinct taste that reflects the terroir of Sonoma.
Packaged in a sleek, modern bottle that reflects the spirit of the California wine country, D. George Benham's Sonoma Dry Gin is a perfect choice for gin lovers looking for a premium gin that captures the essence of the region. Whether you are sipping it neat or using it in a cocktail, this gin is sure to impress with its unique and nuanced flavor profile.