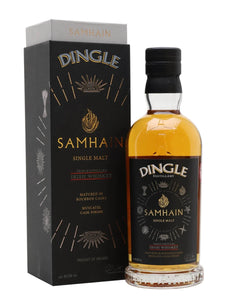 Dingle Samhain Single Malt Irish Whisky is a limited edition release from the Dingle Distillery, situated on the scenic Dingle Peninsula on the west coast of Ireland. This whisky is crafted using the finest locally sourced malted barley, and is distilled in small batches using traditional copper pot stills.
Matured in a combination of ex-bourbon and ex-sherry casks, this whisky has a rich and complex flavor profile. On the nose, there are notes of honey, toasted oak, and vanilla, along with hints of dried fruits and spices. The palate is smooth and well-balanced, with flavors of ripe fruit, caramel, and a subtle smokiness.
The finish is long and warming, with a gentle spice and a touch of sweetness. Bottled at 46.5% ABV, this whisky has a smooth and velvety mouthfeel that is sure to please even the most discerning whisky connoisseur.
With its exceptional quality and limited availability, Dingle Samhain Single Malt Irish Whisky is a must-try for anyone who appreciates the art of Irish whisky-making. Whether enjoyed neat or on the rocks, this whisky is sure to impress and satisfy. Each bottle is individually numbered, making it a true collector's item.