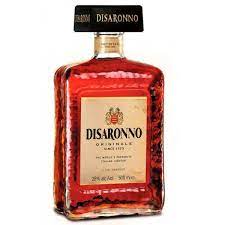 Step into a world of timeless allure with Disaronno Originale, a classic Italian liqueur that has been captivating palates for generations. Available exclusively at Folsom Wine & Spirits, this iconic amaretto is a passport to the heart of Italy, where tradition, elegance, and indulgence converge in every bottle.

Disaronno's story is one of unparalleled heritage. Rooted in the Lombardy region of Italy, the liqueur's secret recipe has been passed down through generations, a carefully guarded tradition that encapsulates the essence of la dolce vita. As you pour a glass of Disaronno Originale, you're not just experiencing a liqueur; you're stepping into the rich tapestry of Italian history and craftsmanship.

The liqueur's hue is a warm and inviting amber, a prelude to the sensory journey that awaits. The aroma is a symphony of toasted almonds, married with a touch of honey and a hint of marzipan, setting the stage for a tasting experience that is both familiar and comforting.

On the palate, Disaronno Originale unfurls with exquisite finesse. The first sip reveals the signature notes of almonds, wrapped in the soft embrace of velvety cream. Hints of vanilla and a subtle touch of lightly toasted caramel add layers of depth, creating a taste that is nothing short of indulgent.

What truly sets Disaronno Originale apart is its extraordinary versatility. It is a liqueur that transcends the boundaries of time and place. Whether sipped neat, over ice, or as the essential ingredient in classic cocktails like the Amaretto Sour, this liqueur is a chameleon of flavor, adapting effortlessly to any occasion. It is the perfect companion for special celebrations, cozy gatherings, or those moments when you simply want to savor life's pleasures.

Disaronno Originale is more than just a liqueur; it's an invitation to embrace the art of Italian living. It's a taste of la dolce vita, whether you're indulging in solitary reflection or sharing it with friends as you revel in the good things in life. Whether you're toasting to an accomplishment or simply unwinding after a long day, Disaronno Originale is the epitome of sophistication and indulgence.

At Folsom Wine & Spirits, we're delighted to offer you this timeless liqueur, representing the very essence of Italian elegance and craftsmanship. Elevate your liqueur collection with Disaronno Originale, and let the rich, comforting flavors of Italy enhance your most cherished moments. Order now and step into a world of tradition and indulgence with every sip. Saluti to the enduring allure of Disaronno Originale!