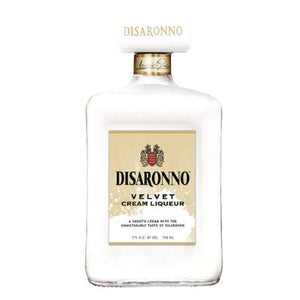 Unveil a world of luxury and indulgence with Disaronno Velvet Cream Liqueur, a heavenly creation that transforms the ordinary into the extraordinary. Exclusively available at Folsom Wine & Spirits, this exquisite liqueur beckons you to experience the epitome of Italian elegance and craftsmanship, where tradition melds seamlessly with innovation to craft a libation of unmatched richness and flavor.

Disaronno, renowned for its iconic Amaretto, has now pushed the boundaries of liqueur craftsmanship with the creation of Disaronno Velvet. This cream liqueur takes the brand's timeless sophistication to a whole new level. It's the essence of Dolce Vita, captured in a bottle.

As you pour a glass of Disaronno Velvet Cream Liqueur, you'll be instantly drawn to its velvety texture, a prelude to the sensory journey that awaits. The aroma is a symphony of warm, toasted almonds, enveloped in the delicate embrace of velvety cream, setting the stage for a tasting experience that is sumptuous and comforting.

On the palate, this cream liqueur unfolds with remarkable finesse. The first sip reveals a delightful fusion of flavors. It begins with the signature almond notes that Disaronno is famous for, but now intertwined with the creamy, luxurious texture that envelopes your senses. Hints of vanilla and a touch of lightly toasted caramel provide a depth of complexity that is pure indulgence.

What truly sets Disaronno Velvet Cream Liqueur apart is its extraordinary versatility. Whether enjoyed neat, over ice, or as a luscious addition to cocktails and coffee, this velvety elixir elevates any moment into a celebration of life's luxuries. It is the perfect companion for special occasions, cozy nights in, or for creating delightful desserts and cocktails.

This cream liqueur is more than just a spirit; it's an invitation to embrace the finer things in life. It's perfect for gifting, sipping in solitude, or sharing with friends as you savor the moments that matter most. Whether you're indulging in a velvety sip after a long day or stirring it into your favorite dessert, Disaronno Velvet Cream Liqueur promises a level of indulgence that's unparalleled.

At Folsom Wine & Spirits, we're thrilled to offer you this extraordinary liqueur, representing the epitome of Italian elegance and craftsmanship. Elevate your liqueur collection with Disaronno Velvet Cream Liqueur and let the richness and sumptuousness of Italian sophistication enhance your most cherished moments. Order now and embark on a journey through the realms of luxury and indulgence with every sip. Saluti to the divine allure of Disaronno Velvet!