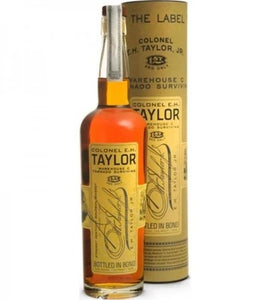 Buffalo Trace Distillery has recreated his traditional sour mash and produced a limited edition, one-time offering of Colonel E.H. Taylor, Jr. Old Fashioned Sour Mash Bourbon Whiskey for a true bourbon aficionado. A few years prior a gathering of Distillery retirees, a method was recounted for making "Old Fashioned Sour Mash whiskey. Edmund Hayes Taylor Jr. (EHTaylor) was known to use this technique in the late 1800's. Taylor's technique involved allowing the mash to sour naturally for days before distillation. Distilled in 2002, and bottled in 2012, this bourbon is a modern replication of this old-fashioned method. Using Taylor's original sourcing process, the result is a bourbon fo character and body like none other today. The combination of a rare estimated 10 year aging, winning the 2012 Gold Medal as one of the fifty best bourbons, and the extremely rare limited release make this bottle nearly impossible to find.
As founding father of the bourbon industry, Colonel Edmund Haynes Taylor, Jr. left an indelible legacy. His dedication to distilling began at the close of the Civil War when he purchased O.F C. Distillery. There, he developed innovative techniques that are still in use today. Made by hand, this Small Batch Bourbon Whiskey has been aged inside century old warehouses constructed by E.H. Taylor, Jr.  Barrels are evaluated and selected to create a perfect blend of distinctive character that is like no other. This bourbon is a true sipping bourbon that honors the uncompromising legacy of E.H. Taylor, Jr.
TASTING NOTES:
Tastes of caramel corn sweetness, mingled with butterscotch and licorice. The aftertaste is a soft mouth-feel that turns into subtle spices of pepper and tobacco.
Awards:
2019 Silver Medal – New York World Spirits Competition

2019 Silver Outstanding Medal – Whiskies of the World